Patient Reviews
Sam Hoover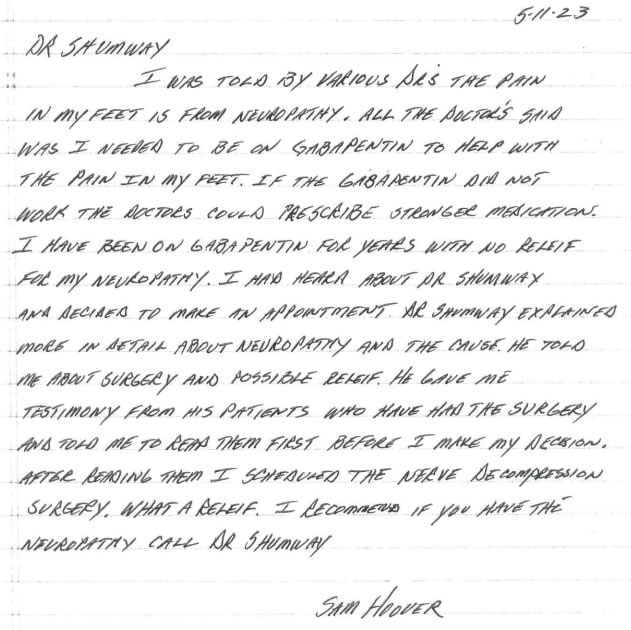 R. Fischer
I had a car accident in 2010 that injured my back. I had 2 back surgery's, hip replacement, and injections. Nothing seems to have any improvement. My feet hurt all the time and my balance was bad. I started falling and would have injuries.
I heard about Dr. Shumway so thought why not give it a try and what would it hurt.
I had the worst leg done first and then had the second one done. At first I didn't know if it helped but about a week later I got up in the morning and I noticed a difference. I was told it was instant but I had blockers in my leg so it was numb, it still takes time and everyone is different. Each morning I get up seems to be better. My back doesn't hurt as much I think because of my walking.
Dr. Don is a wonderful man so patient and the hospital at Show Low gave excellent care. Glad I gave it a try.
Thank you Dr. Shumway.
Tami Bowman
I had suffered with Peripheral Neuropathy for over 20 years, the loss of feeling, numbness and pain was at night exceedingly difficult. I was unable to sleep, if my feet got cold, it would take hours for the pain to subside. I went to 6 Podiatrists during that period, "yes, Mrs. Bowman you have Neuropathy" is the response I would get, my question "What can be done about it?" They started me off with 300mg of Gabapentin once a day, what a laugh, no help whatsoever.
Going to another Podiatrist, they upped it up to 3 a day, in the end I was taking 3 400mg 3 times a day, no relief! I thought I would have to spend the rest of my life in pain with more loss of feeling every day. Mind you these Podiatrists were in five different states as we moved with my husband's job, no I did not just doctor hop.
I moved to Arizona in September of 2021 and established care with a new primary physician and told him about my Neuropathy and he told me there was a doctor who specialized in Neuropathy not too far away. I thought "Great, more pills and no relief!" I quit taking the Gabapentin because it was not helping.
I went to see Dr Shumway October 11th, he examined my feet, asked me many questions, and verified yes, I had Peripheral Neuropathy but, he could help, no more pills. He explained the surgery he could do, showed me what would be done and gave me information about the surgery, I was skeptical at first but, listening to him I began to believe.
I had the surgery on my left leg/foot on January 19th, 2022 (had to get clearance from other doctors for the surgery), was wakling the next day with the help of a cane (did not want to mess up his work) after 3 days I was walking without assistance. I did not experience a great deal of pain, I had to get used to positioning my legs while sleeping but, that was easy. Feeling was returning, not sure how to handle that as I had lost so much feeling, kind of like a rebirth!
I went for my 1-week check-up on January 24th, all was well so I asked when we could do my right leg, he asked about two days later, sure, why not. So, he did my right leg on January 26th. My husband brought me into the house on a dolly because I had a block on my leg for the surgery. Once again, I was up and walking for following day. Again, I did not experience a lot of pain.
My check-ups have been great, I am feeling so much better and much more confident. I have shared my experience on Facebook and have had many friends asking where Dr. Shumway is located because they would like to see him.
I am telling you this because Dr. Shumway gave me back the life that I was without for so long. I recommend him highly, I say "See the rest and then see the best Dr. Don Shumway in Snowflake!!!"
This letter is being is being written with the deepest gratitude to Dr. Shumway.
Thank you Dr. Shumway from the bottom of my heart!!!
T. McConville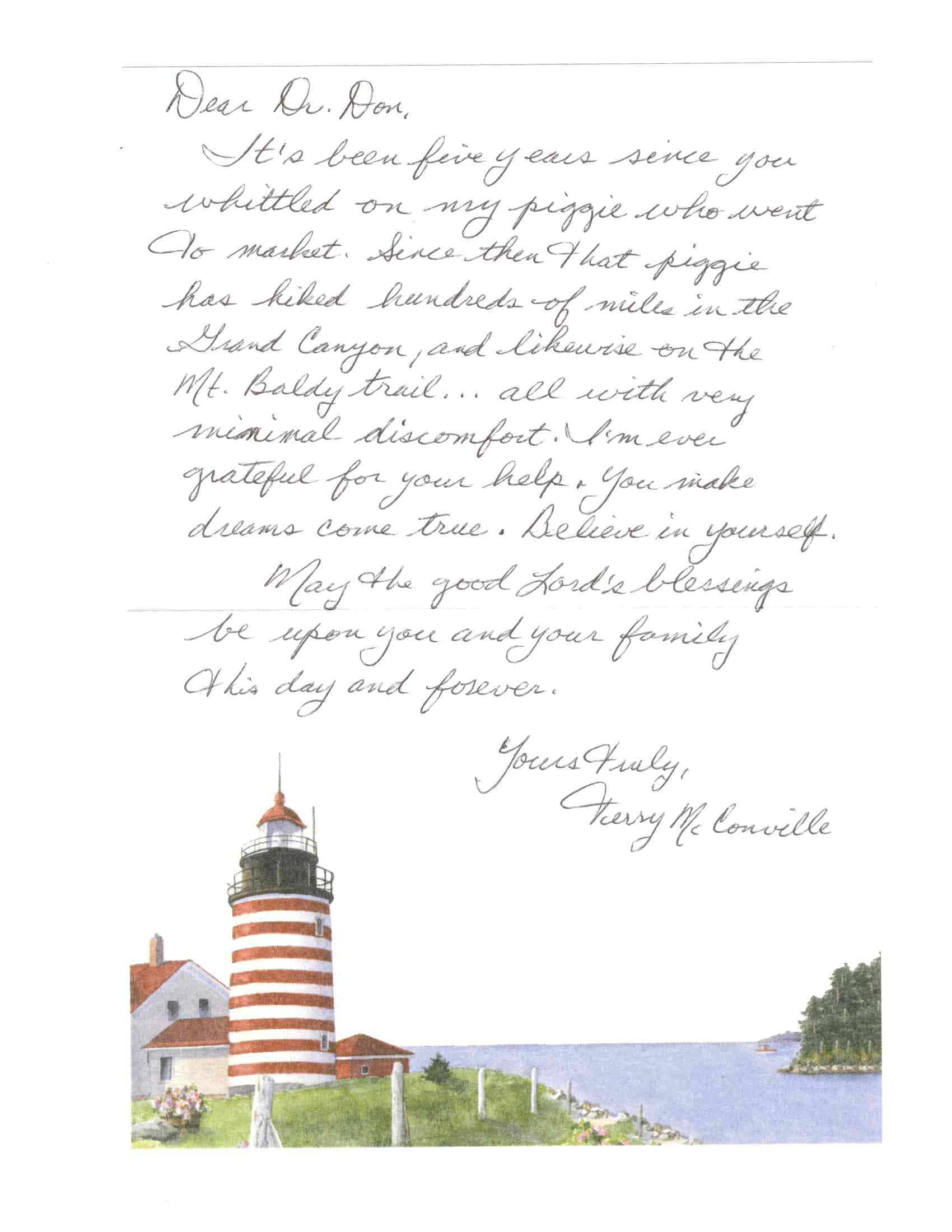 Walter H.
My name is Walter H. and I want to share with you a short story about how Dr. Shumway is a doctor that actually saved my life when I gave up on doctors and on life.
In the year 2010, for no unknown reason, my body shut down from a disease in my spine. It started 10 years before it showed itself. I also lost the use of my legs. I had gone to many doctors and was told by them that I might never walk again. This sent me to a deep depression. I had the world in my hands and then 'poof it was all gone.
My wife became my nurse. My nurse 24/7. She had to help me with all my everyday tasks. For almost 8 years I had spent in a wheelchair feeling hopeless and even more depressed. In 2010 I attempted suicide. If my wife hadn't showed up, 5 minutes longer I wouldn't be writing this letter.
Then in the latest part of 2010 my primary doctor found me a doctor who might be able to help me. I already knew this one probably couldn't of help me also. So my doctor sent a referral and I got an appointment with him. His name was Dr. Don Shumway.
When I went to see Dr. Shumway he showed me pictures of how the legs function and made sure I understood the situations of what could be the problems that I have and how it could be fixed. So we scheduled surgeries on both legs. After the surgeries I was sent to a rehabilitation facility for extensive therapy. It was very hard and exciting at the same time. My wife, doctors from the facility, other patients and other facility personal were all there to see me for the first time in 8 years, I took my first steps.
For the first time, I felt like the world was taken off my shoulders. Here it is 2021 and I can walk with no assistance. None of this would be possible if it wasn't for Dr. Shumway. He gave me back my life. I will always be grateful to him.
He was my miracle.
James Bennett
Nerve Decompression Surgery - Left side
Log for Dr. Shumway:
February 8, 2021: Stitches removed. More aware of the foot than before. Able to control the left step more than before.
February 9, 2021: Balance seems to have improved to a degree. Have a little more confidence while walking. More confidence with my standing balance. Arch little sensitive, although I was on my feet 6 hours this morning.
February 10, 2021: Arch doesn't hurt like yesterday, probably because I have not been on my feet as much today.
February 11, 2021: Before surgery I would trip on a rug or a rock outside, as I tended to drag my foot since I could not feel it. I have not tripped since surgery as I now lift my foot.
February 12, 2021: Balance off today.
February 13, 2021: Snow day. Can feel my shoe on the foot. Numbness felt more when foot raised & weight off it.
February 14, 2021: No noticeable change.
February 15, 2021: Wore my rubber boots today & right foot felt like an adult was standing on it where as my left foot felt like a kid was standing on it. While putting on socks I used my fingernail to poke my leg & foot and noticed I have more feeling on back of leg than the front.
February 16, 2021: Snow day. With shoes on, burning felt in addition to numbness in right foot. Very little to no burning in left foot.
February 17, 2021: Right foot hurt today. Checked into a cortisone shot. I feel the weak link in my locomotion is the right foot.
February 18, 2021: Right foot and knee continues to hurt on and off.
February 19, 2021: Good day. Balance was good today as I worked outside until early afternoon. Short sensitive spike in area of arch close to surgery scar - twice today.
February 20, 2021: 3 more nerve spikes at suture site at the arch of my foot.
February 21, 2021: Foot arch scar nerve continues to fire numerous times during the day.
Juliann Schutts November 16,2020
This has been a six months adventure.
I was at work and suffering in pain with my left foot and leg for about four weeks. I changed my shoes thinking it was a shoe problem. I was a merchandiser and I was in my backroom when I collapsed in severe pain. I had to go to the E.R.
I was referred to a foot doctor. I called a few doctors. I couldn't find one. I finally got ahold of someone who told me to go to Dr. Shumway in Snowflake. I called, got an appointment. I crawled into the doctor's office.
I went through the whole consult and was told I have nerve decompression in both of my legs and feet.
I was told I would have to have surgery to get better.
I made the surgery appointment. I had the surgery and I was still in excruciating pain. I was held up on the LazyBoy for months. I had to go through therapy to learn how to walk again. The pain was still terrible so I went to my general doctor.
She is trained in pain management. She got me on a good pain regiment. So between the pain management and therapy I started to get a lot more better on my feet. I graduated from therapy. I went back to Dr. Shumway for another update. I also scheduled my second surgery for my right leg and foot. I was very terrified thinking the pain will be the same. I came out walking after the numbness wore off. The pain wasn't even near what the left leg was. The only thing I have left to do is work on my balance.
I would definitely recommend Dr. Shumway.
Wendy Fenn July 1, 2020
Hi! My name's Wendy.
I have been suffering from diabetic neuropathy for about twelve years. I have gone to several doctors and they always told me there's nothing they could do, that I had to learn to live with the pain. The doctors tried to find me an effective pain medication. The medicine took the edge off, but never made me comfortable. I've been on Gabapentin, morphine, Fentanyl patches, Hydromorphone, and Oxycodone. I was prescribed the highest doses the doctor could legally give me.
And I was still suffering.
Every time the weather changed, I could feel it coming. Whenever we drove to our home up north, the altitude affected me. I holed up in my house for days waiting for the effects of the change to wear off. Then just as I got feeling better, it would be time to go back down south to see my grandkids and the altitude would affect me again. Sometimes driving up the mountain was so horribly painful, I had the urge to open the door and just jump out of the car to end it. Thankfully I never listened to such thoughts, but I include them in this to emphasize how much pain I was enduring at the time.
I was referred to go to a pain specialist and he suggested we try the oxycodone and hydromorphone. Only sometimes did they take my pain away. Sometimes though, when the pain was still there, I had a prescription they gave me for HydrOXYzine for anxiety that helped me relax enough to have the pain subside a little bit more. And yet nothing made me feel normal. I was not able to do simple household chores, sleep eluded me, and playing with the grandkids, or going on adventures with them, was difficult if not impossible. I was dependent on others for rides because I couldn't drive with all of the medicines I was on. I was miserable.
Then one day my doctor referred me to a pediatrist in Snowflake, AZ. His name is Don A. Shumway. He was the first doctor that gave me hope that my feet could be pain-free. I cried that day. He told me about the surgery called NERVE DECOMPRESSION. Those two words changed my life. I had the surgery done on my left leg in December 2019, and the next day I was begging to have the other leg done.
The pain was immediately gone.
It was miraculous. I could not believe my troubles, frustration, and heartache could disappear so quickly. He operated on my right leg on Valentine's Day 2020.
Since then, I have tried to let as many people know about it as possible. Needless to say, my husband and I both love Dr. Shumway! Our lives are greatly improved. I am able to do so many things I haven't done in years. I go on walks to the park with my grandkids, I walk around the zoo, we even walked around Sea World and Legoland! I never could have imagined doing any of those things until I met Dr. Shumway.
He was nothing but kind and understanding and he and his staff were very professional and made me comfortable with the whole procedure. He would call and check up on me every day after my surgeries. The post-surgery pain was nothing compared to what I felt before the surgery. He really cares about his patients. If you are reading this debating whether it is worth it or not, rest assured it is life changing! Believe me, you can't get this surgery done fast enough!
Gerald H. Smith April 17, 2020
This letter is long overdue. To refresh your memory, I visited your office in mid-August 2019 for treatment of calluses. You noticed my extremely swollen legs, stated I was about to experience congested heart failure and recommended that we proceed immediately to the ER at the hospital. You further recommended my wife do the driving.
By way of background I had previously visited a primary care Dr. who said "he could prescribe a diuretic" and recommended I see a cardiologist. I saw the cardiologist who said "he could prescribe a diuretic" and ordered an ultrasound of my left leg, the more swollen of the two. The ultrasound was performed about a week later and proved negative. By the way, both Drs were in the Summit Health care system.
When we arrived at the ER I was examined and admitted to the hospital. While in the hospital the only treatment I received was a twice daily dose of a diuretic. I peed a lot and the swelling receded. No tests of my heart, i.e., an EKG were conducted, After four days l was discharged with a portable oxygen generator.
The next morning when I awoke I felt things were not right. Lenore called the hospital, spoke to the head nurse who had attended me and was told to bring me in immediately. Blood had been taken just before I was discharged and immediately when I returned. lt seems there is an enzyme in blood that alerts an impending heart attack. Overnight it changed from .4 to 1.6. Within 45 minutes I was being airlifted to Abrazo Heart Hospital in Phoenix.
The second morning at Abrazo I had two stents implanted in the largest heart artery. The staff at Abrazo was excellent except for a Dr., another male surgeon, who prescribed Spireva even though my chart showed I have glaucoma. (The medical profession - is it still a profession? - has gotten careless. After five days I was discharged.
As a result of this experience we decided it was time to consider moving into an independent living facility. We put our homes in Show Low and Casa Grande up for sale. We have two children, one of which is a doting daughter, and three grandchildren living in Denver so decided that was our best choice. The doting daughter surveyed our options in Denver and chose The Courtyards. We moved on September 30, 20'19 and are very happy here. The Courtyards has proven to be an excellent choice by all measurements. The management has done an outstanding job of keeping us safe from the virus. Very early they locked the doors and prevented visitors including relatives. Beginning in mid-March the staff and care givers began being temperature-tested daily at the start of their shift. Four weeks ago all social contact between residents was canceled; we are quarantined in our rooms. Meals are delivered to our room three times daily, etc. The Director and two other key employees spend the night in vacant apartments and haven't been home for three weeks.
That is about the entire story except for THANKING YOU FOR SAVING MY LIFE. I hope this letter finds you and your family in excellent health. l'm curious; how do you practice podiatry via the phone and lnternet?
Hello, I'm a Marine Corps veteran. Because of my job I can't give my name or years I served. When I was in a disclosed location I was wounded. I didn't even know it. 22 plus years later that wound turned into a life threatening disease. I've had 14 surgeries so far, most to keep me alive. 6 years ago I lost the use of my legs. I was confined to a wheelchair. I had gone to many doctors and they said the same, it's my spine. One day my primary doctor called me and said he might of found me a doctor for my legs. That doctor's name was Dr. Don Shumway. He told me he could help me. He gave me an exam and said it could be my nerves. He set up surgery for each leg and he was right. I had pinched nerves in both legs. For the first time, after 6 years, I could feel my legs again. I wish it happened 6 years before. Things happen for a reason. Dr. Don Shumway not only gave me my legs back but he also gave me my way of life. I will be forever grateful to Dr. Shumway.
Dr. Shumway called me every day to check on me, I never had a doctor do that before. The compassion he has for all his clients, you never see that in most doctors. To me, Dr. Shumway is my hero, what he did for me, and I mean that. I cannot say enough good things about him. I am now going to rehab to learn how to walk again. For everybody out there looking for a doctor that goes above and beyond his duties, spread his name and number, others will be glad you did. God bless you Dr. Shumway, you're a great doctor, keep up the good work. Semper Fi, Dr. Don Shumway, Semper Fi. One other thing I must share with America. There is no such word as ex-marine, only ex-wives. We will always be marines until we die. Then we will be guards at the pearly gate in heaven.
Jan Byrne August 22, 2019
Nerve decompression surgery left leg
Lives Show Low AZ
My first surgery was done in 2005. I had meniscus tear in the left knee. I did exercise and physical therapy for almost three months before surgery. After surgery several medications were tried for pain, but nothing worked. Then I was put on OxyContin, but that medication caused nausea. I might also add during this time I was working at Lowes as a cashier and on my feet 8 hrs per day.
Early spring of 2011 my husband and I moved to Richmond, Texas. There at the Richmond Bone Clinic in TX, I went to have knee checked out. Everything to them was fine and another prescription for OxyContin. I was in TX about four years, and went to several small hospitals for pain. I was given gabapentin, amitriptyline, in addition to the OxyContin for pain.
Then I returned to Show Low area. I went to the valley for back and leg pain - no help­ just more therapy and pain medications. I went also to a bone specialist in Flagstaff (nothing again), no help there. I have been in pain management in several cities in AZ. No help!
By the time I got to Dr. Shumway, I could not walk and averaged falling about four times per week.
I went to Dr Shumway to do nerve decompression surgery. I have been told I have type II Diabetic peripheral neuropathy and big problems with balance.
Left leg was operated on 7-9-2019, so far so good. I will have therapy for 2-3 weeks. As for falling, I was doing so well then morning after surgery on 7-10-2019, got up to go to the bathroom on my return; I went down on my return; I went head first into chest drawers. Big gouge out of hand on left side and hit head hard on chest. So - back to hospital. So far no other falls I can walk without walker, but I keep walker very close. I also went Walmart on 8-6-2019 of this week for a few items - again no falling.
I think everything considered, my leg is in excellent shape. I do not think it is necessary to do the right leg. I'm trying to be patient with myself and take things slow. I really had no idea about procedure until I went through it. It is remarkable how each day I see improvement. Thank you so much for encouraging me to do this procedure. I would like to have my back feel better. It is just in the morning when I get up that it hurts. I'm just so happy that I can walk again! Thanks for all you do!
Kenneth Synnott
Dr. Shumway
I want to thank you for performing Diabetic Nerve Decompression on both of my legs. I am feeling a vast improvement in the quality of my life. I thank God that I heard your radio advertisement on the local AM radio station.
The last five to seven years have been the worst of my life, with the ever increasing pain and numbness in my feet and legs from my diabetic condition. I was running out of options to control the pain, I was taking three different medications of ever increasing strength with no abatement in the pain. I was not able to pursue my favorite outdoor sports and hobbies, and felt that my life was passing me by.
You are one of the most compassionate persons that I have ever met, I felt that you truly cared about me as a patient and as a person. I continue to feel better every month, I would recommend your treatment to anyone -suffering from the pain and disability from Diabetic neuropathy associated pain.
God Bless You Dr. Shumway.
A very grateful Patient
Arthur Bans April 30, 2019
This is the story about my right leg and foot problems! I had several bouts with gout in my big toes over several months! On my first visit to a DPM back in 2014, I was told I had plantar fasciitis in my foot and was given an injection to ease the pain! A few months later I returned to the DPM and was told my toe was not connected properly and needed surgery to correct it and clean bunion of deposits! I put off surgery for a while and during that time I had several gout flare ups which his very painful! I was seeing my VA provider in early 2017 and was told that they had a Dr. of DPM at the clinic now and he make appointment for me to see him there! I thought that was great as he was the same Dr. I was seeing outside of the VA! On my first visit at the VA Clinic he said I should have surgery now through the VA as they pick up the bill! Surgery on the 11/20/2017! Long recovery as I wasn't able to walk for 5 weeks on foot! Feb. 2018 spoke with a MD and was told not all surgeries were a success and to hope it would get better!! Fast forward to August when the VA finally got me the ok to see another DPM. This time I seen a Dr., would told you up front what was going on and showed photos as to why I was having pain and how to correct the first surgery! Fast forward again 6 months to get the VA to give Dr. Shumway permission to do surgery! Pre-op with Dr. Shumway was a learning experience of a life time! He explained in detail what he was going to do and again photos of the human leg and foot, where he was going to repair my problems! I've seen several Drs. in my life time and he is the first to show and tell what was going on in my leg and foot!! Surgery was about 3 hours and recovery time for healing 6 weeks! My pain level is about the same as it was before surgery and I'm able to walk on it with this post-op shoe! My stitches come out on 05/02/2019 which is good news as I can shower without plastic bag on leg! The reason for the long saga is to give insight on treatments with from different Drs. If I didn't see Dr. Shumway and get his opinion on my problem I would be limping still in pain today! Listen to your heart and mind when you visit a Dr. for any reason! I can tell you this if you need a DPM for any reason, give Dr. Shumway a visit and see for yourself if what I'm stating is a Dr. whom will give you the best treatment for your condition! By the way, I almost forgot to tell you I'm walking down my stairs now the right way after surgery! Before that I had to walk down backwards to ease the pain in my toes! Like I said, I've seen many different Drs. in over 70 years of my life time and we all said they were practicing their crafts! Dr. Shumway in my opinion is not practicing DPM, he has mastered it the fullest! Don't take my word from this saga, go see him and you will leave knowing what it is and isn't that he needs to do to correct your problem! Thank you for reading my story and hope you and yours have a healthy life!
Ps. Thank you Dr. Shumway
Taylor, Arizona March 28, 2019
My feet have slowly over the last years, become numb on the bottom. They felt like I had dipped them in wax and that the wax had dried on them. It was just an irritation when I took my shoes off and the feeling of each foot was like J had wax on the bottom. I felt this wax moving upward toward my toes.
I was listening to the radio one day and I heard Dr. Don Shumway telling about a surgery that would help the numbness on the feet. I went right away to see him. He tested my legs below the knees and said that I was a good person for the new surgery he did. I told him I would like him to do it.
On the 23rd of January 2019 De Shumway did the surgery on my left foot. It was Nerve Release surgery. He had the anesthesiologist put a block in my left knee and there was no pain for the next three days. I then took a pain pill for the next three 8 hr. periods. After that I needed no pain killers. I could see as time went on, that my left leg was pinker than the right one. Also the left foot looked smoother than the right one.
Loretta Shumway
I was so excited to have the right foot done and see what other amazing things happen. I am two weeks past the right foot surgery now. I have had more pain with this foot but now I am in regular shoes and there is no pain at al11 except when I forget to put it up, so it is above my heart.
The wax feeling is gone from my feet now. I am so excited to see what will happen from now on. I have learned that all nerve endings in the body end in the feet and hands. I am thinking this will be one of the best things I have done health wise for my legs and feet. Both legs are now the same color and both feet smooth.
Dr Shumway has been amazing through these two surgeries. He has called many times to see how J was doing. He is a very caring care taker.
Thank you Dr. Shumway, you are my hero.
Jeff and Linda Kusche April 30, 2018
This is a letter of review for Dr. Don Shumway.
Dr. Shumway has been our doctor for thirteen years. He has always gone above & beyond for us. My husband has major problems with his feet from diabetes. Dr. Shumway was the doctor that discovered this. He has done surgery on both of his feet to help him walk better and it has worked. We are getting ready to have another surgery to help with the pain that my husband has. We have so much confidence in Dr. Shumway and we cannot tell you how much he means to us.
Recently my husband was having swelling in his legs and feet. Dr. Shumway had us go and get his heart checked and because he cares and takes so much care for us, we have found out that he has something wrong. We are now going to a heart doctor to get it taken care of. Dr. Shumway has helped us so much with more than just his feet and for this I would like to thank him and let other people know what a great doctor he is.
Also, Kelly is his office manager and has also gone above and beyond for us.
Thank You and Sincerely
Katherine Carlsten
Hello, my name is Katherine Carlsten and in Novernber of 2010 around Thanksgiving time I injured my right ankle. It happened by Kohls Ranch - my boyfriend was working for them at this time. We decided to go camping for the weekend, because this was something like the fourth weekend he was working.
We found our camp spot and started to back in....that's when it happened. I was getting a wrench from inside the cab-over-camper on my 4x4 old Chevy truck. Now I always put my foot on the bumper to get in and out while setting up camp until I get the stairs out... Well, I slipped and landed on the right side of my ankle - rolled it all the way under. I had cuts on top of my foot from the ground. I started to go to the right, and I heard a crack. I slammed to the left, and I heard another crack. My foot flung back to its normal position, and I started shaking. I was kinda dizzy, and kinda out of it but not. Two months later I was told that was shock.
Meanwhile my boyfriend is in the truck waiting for me to get the wrench and lock in the 4x4. He couldn't see me behind the truck on the ground. I was yelling but the engine was running, and he couldn't hear me. So, I crawled out from behind the truck and yelled... he heard me that time. He got me up and into a chair, and he set up the rest of camp and then ran to work.
I did my best to get up, figuring that I sprained it really good. I couldn't put weight on it at all! But I needed to get firewood, so I tried.... I hopped on one leg and got four sticks! I figured, this is not going to work! So, I got in the car and drove to Payson to the Walgreens and got an ankle brace - the first of many - two bottles of wine and dinner (trail mix!) I drove back to camp and ate dinner and drank both bottles of wine - it did nothing for the pain. I was very disappointed in that. My boyfriend called some friends to come help me when he got to work, and they had just showed up!
So, in February of 2011 - 3 months later - my ankle has not gotten better. It is actually worse - swollen blue and purple. I can't move it, can't put all my weight on it, etc. I go to Urgent Care in Payson. They tell me after X-rays that I fractured it in two places - one going with the bone and one going across the bone, but that it's already almost healed and that my symptoms were to be expected with this kind of injury. They wrap it and tell me to stay off of it.
Now I have been bartending all this time with a camber boot on, because I have to work to pay the bills. So, I go home and work, and when I'm not at work or when I'm called in sick, I stayed off of it. Probably two months go by - maybe three - and it still hurts a lot. So, I find a doctor that will take acchcs. I go to this doctor, and he tells me that there is no fracture - there never was. I sprained my ankle and it's gonna hurt. He sends me home.
Another three or four months go by, I go to the doctor again - same one - he tells me the exact same thing. I tell him that this injury is now almost a year old! He says that sometimes sprains take a while to heal and sends me home with 1000 mg of Tylenol every four hours for pain!!!!!!! I thought "that much Tylenol would kill you" - so I looked it up… yep!
So, needless to say, I did not take the Tylenol and I got rid of that quack. I got another doctor in Payson. This one had me get an MRI - I thought things were starting to look like maybe I can get this fixed now! They say that there is soft tissue damage - I kept telling them something's wrong, but the bone is fine!
Well, the MRI showed that I was missing the ligament in my ankle that controls the three small toes, and that lots of people don't have this ligament and to deal with it. He says I have RSD and here is some gabapentin ... talk about a high! I couldn't even talk, let alone function!! I went to another doctor.
He says, "I'm not going to do the surgery, it's not worth it". Nice doctors, huh??? So, I tried to live with it. I lost four or five jobs because of my injury, it was totally hopeless. I figured I got a few years of walking left. It started to make my leg not work - I would try to pick it up, and It just wouldn't, it was like my leg and ankle were dead. I got really depressed and didn't work at all then.
Well, being off of it and not working, it started to feel a little better after a while, so I got a job at Ace Hardware in Overgaard. I worked for the summer, and it would hurt at night, so I would stay off of it. Each night was worse as time went on. So, three years have passed, and I've calmed down since the last doctor with the MRI. So, I decided to try the new doctor in Overgaard, Dr. Bornstine. He was a vet, so I thought maybe he would listen to me.
The other doctors didn't seem to listen or care. They never even touched my foot, just looked at it. Dr. Bornstine looked at my foot, he listened to me, he sent me a referral to Dr. Shumway. I called and made the appointment. To be honest, I figured Dr. Shumway would say the same things as the rest of the doctors. I told myself, now don't start crying when you tell him what happened. I had started to cry before when telling my story for the fifth time to the fifth doctor that didn't care. That doctor told me "stop my crying, he didn't want to hear that", and sent me on my way, feeling like a drug addict trying to get pills from him!!
I Just wanted it fixed! I don't like pain pills! So, I tried not to cry, but that didn't work. I'm crying now telling this story! I digress – sorry! Anyway, Dr. Shumway was amazing! He listened to me, he looked concerned about me, he touched AND moved my foot. He took x-rays, gave me answers and options, he got me my second MRI, and found out a whole bunch of stuff and did a nerve test!!!
I didn't even know such a thing existed - what an amazing thing! I can't really even tell in words how grateful I am to Dr. Shumway! He is AMAZING! I can wiggle my toes now! I can cross my right leg over my left now! I can WALK! I don't have nearly the pain I had!
Carrol MayFebruary 23, 2018
I am writing this letter to share my experience with the recent Nerve Decompression Surgery I had done to help alleviate the discomfort and pain due to Diabetic Peripheral Neuropathy (DPN) in both of my feet. Let me give you a little history. I was diagnosed with DPN in September 2014. At that time I was put on several medications including amitriptyline once daily, and duloxetine twice daily to aid in lessening the consistent burning, extreme stinging and even numbness I was experiencing in my feet. Over time I experienced more and more difficulty doing the simplest things including walking or standing without severe discomfort. In January 2015 tramadol was added to my medication regimen, taking it up to 3 times a day. Then in February 2016 gabapentin was added to be taken 3 times a day.
Over time, not only were all these medications not helping ease the pain and discomfort, walking, even sleeping became more and more difficult. To add insult to injury not only was I uncomfortable and in pain the medications began to take their toll on my memory. Over time I would forget things that I did the day before, forget where I put things away at and even worse, forget how to make my way home. It was crippling to think that to reduce the pain and discomfort in my feet, the medications were making things worse. In September 2017 I was taken off the gabapentin as it was having the most traumatic effects on my memory.
As my AlC numbers came down and the fact that these medications I was still taking were not working to alleviate or eliminate the pain I was in, in conversation with my doctor it was determined I would be a prime candidate for the procedure Nerve Decompression Surgery. Dr. Don Shumway, DPM provided reports showing how Nerve Decompression Surgery can reverse diabetic peripheral neuropathy of the foot. The report stated there is an 80% chance of removing the pain and numbness by decompressing the nerve in 3 places, just below the knee, below the inner ankle, and on top of the foot. Wanting to be free of pain and all these medications I met with Dr. Shumway and decided to move forward the procedure on my left foot.
After having the procedure, with no pain medication after the surgical procedures for 9 hours, I was no longer experiencing any pain or discomfort in my left foot. With the success I had in the first procedure with my left foot, 6 weeks later I had the same done on my right and am ecstatic to share that my experience was exactly the same. I am still dealing with slight numbness, but that continued to Improve over time.
I want to extend my thanks to Dr. Shumway for not only alleviating the pain and discomfort of the DPN through this new procedure, but for helping to give me my life back. I am no longer suffering from the extreme memory loss I had on the medications but am able to more easily walk and sleep with little to no pain. My son's wedding is coming up in CA this spring and I will be elated to not only enjoy this special occasion with my family but enjoy a walk on the beach. I owe it all to Dr. Shumway.
Sincerely,
Carrol May
Book of Job II
Epistle to the Medical World of how Podiatrist Don Shumway Ended 17 Years of Torment
1991 At age 30, Tom Nauman contracts testicular cancer. Had right testicle removed June 1991.
1991 June through August he had high-dose chemo (23 hours per week) because seminoma had spread to the left side lymph nodes and teratoma growing testicular matter (3 tumors) around the right kidney.
1991 Tumors actually GREW during chemo so had lymph node dissection and removal of teratomas ln November 1999.
1994 Teratoma grew from nothing showing during August 1999 scan to huge testicular matter growth around heart and trachea about Thanksgiving of 1999. Cancer completely gone (cut out) not just in remission.
2001 First signs of neuropathy hit feet with slight numbness and tingling. Specialists said cause was metal (platinum) in one of several chemo drugs called Platinol or Cys­Platinum. Nauman was told chemo poisons can stay in system and progressively cause damage over years. Regular Gabapentin didn't work. Lyrica didn't either, I just get all bad side effects.
2005 Neuropathy had progressed from numbness and tingling to electric shocks to hot shards spiking through toes and feet to FULL burning alive feeling in all of feet and progressing up lower legs. (Worse pain always right where toes meet rest of feet. Feet were numb on outside and full burning deep inside feet. Legs not numb - just burn all over legs). During this time pain specialist would use up to 1200 mg Morphine then titrate with Methadone, then use Morphine again. He did this for several years and is now the Executive Vice President of ABAM (American Board of Addiction Medicine) in Bethesda, Maryland.
2007 Nerves around veins had shut down to point where feet and lower legs were blackish/blue and pain specialist was talking about possible amputation right below knees due to infection risk.
2007 Summer - As a last resort, church member recommended a local acupuncturist who was trained in China. She got circulation working but could do nothing for pain. A second acupuncturist offered to try for free just for the challenge. After 2 to 3 months, still could not relieve any pain.
2008 Lack of resources on Big Island where we lived at time. Neurosurgeon said spinal cord stimulator was current best treatment for neuropathy.
2008 Summer of 2008 - Neurologist in Tacoma-Seattle area tried three times to place spinal cord stimulator. Did not work. Trying to get by on about 360 mg of Morphine a day.
2009 Spring of 2009 - Neurosurgeon Dr. Daniel Drennan supposedly best spinal stimulator placement specialist at University of Utah Medical Center attempted lead placement much lower on spine than prior Tacoma-Seattle neurologist. He got electricity to hit most painful place (where toes meet rest of foot). But even at highest voltage, pain would just jump over electricity. I could literally feel pain jumping over electricity. Medtronic (stimulator maker) representative could not believe I used highest voltage. Unable to walk or function with ligaments and tendons so tense and causing legs to spasm out of control from being shocked. I would only use the spinal cord over the years to basically give myself electrical shocking pain to get my mind off of the burning pain.
2009 to I was treated by a team of different specialists at the University of Utah Pain
2011 Management Center. Sometime in first part of 2011, they told me that I had the worst case of peripheral neuropathy that they had seen. They said that they could do nothing more to help me. However, they said once I resolved a legal issue involving a brother-­in-law, after the reduction in stress, they might be able to help me a little more. They then gave me a month's worth of prescriptions for 180 mg of Morphine I.R. per day, plus 180 mg of Morphine E.R. per day and basically sent me on my way.
2011 I found pain specialist in Park City, Utah whose LPN Assistant wrote prescriptions for the 360 mg of daily Morphine. She had 30+ years of experience specializing in pain medications. She increased the dosage of Morphine a little, plus added Klonopin (Clonazapam) to help relax my constantly tense muscles in lower legs and to relax me.
The Klonopin seemed to work a little better than Morphine did. However, the pain kept worsening.
2014 In January of 2014, the pain specialist lady started me on 800 mg of Subsys 6 times per day. Subsys has Fentanyl in it but is not Fentanyl. It is like Fentanyl on steroids. It is squirted under the tongue and provided immediate relief, but the pain relief only lasted about 3 ½ - 4 hours. To even out spikes in pain, she also had me on the 180 mg of Morphine I.R. per day, plus 180 of morphine E.R. per day as the University of Utah did. As my body built up a tolerance to the Subsys, she added 600 mcg of Fentanyl lollipop suckers absorbed through the inside of cheek lining 4 times per day.
2015 By this point in time I was being prescribed:
1) 4800 mcg of Subsys per day
2) 2400 mcg of Actiq fentanyl lozenges per day
3) 360 mg of Morphine I.R. and E.R. per day
4) 1 mg of Klonopin three times per day
5) 6 vials of Ketamine to take up to 2 mg in my buttocks via shot when the pain went totally ballistic
S) They also had an apothecary mix Ketamine with DMSO to apply topically – this reduced the pain 1 degree for a while but eventually did nothing.
The head pain specialist with a background in Anesthesiology and minor surgical procedure experience started burning my ganglion nerves on 6 different parts of my spine every 2½ - 4 months. After horrific rebound pain, I had noticeable pain relief for a month or two. However, this procedure became less and less effective, and I was basically just being fried to death. But because it had provided some relief, the pain specialist concluded that I must have a secondary nerve disorder with similar symptoms as peripheral neuropathy because radio frequency burning of the ganglion nerves would not have provided any relief if it was just neuropathy alone. Also, besides the medications listed above and because Lyrica and normal doses of Gabapentin had no effect on me, I was being prescribed Gralise (a type of long-acting Gabapentin meant for post-shingles neuropathy), plus large doses of generic Gabapentin. I was told to take the entire 6 pill daily amount of Gralise at night. In the morning, I noticed that my feet were "numbed" a little bit from the burning pain on the inside; however, it wore off quickly. So, I was instructed to take twice the amount of Gralise (12 tablets per day plus a bunch of generic Gabapentin). I had to stop this because my liver started shutting down. In addition, because the Clonazapam was becoming less effective, I was prescribed a large quantity of Tanzanidine per day. However, this made it impossible to walk and made my blood pressure VERY low.
2016 In May of 2016, I was able to go with my son back to the Big Island of Hawaii, where we used to live, for about 3 weeks, staying with a friend and looking for a shack on the poor side of the island every other day, as my oldest son wanted to move back there. On the days we weren't looking for something he could afford, I would pack my Subsys bags to the beach and swim and relax. After 21 days, I noticed I was able to have less pain and was only taking the Klonopin, Actiq lollipops, and just 1 Subsys at night. (By the way, each Subsys spray dose is about $130. I was being prescribed 6 per day every 25 days. The pharmaceutical bill each year for Subsys alone was around $380,000 per year. When added to the expensive Actiq plus Morphine E.R., Gralise, and other drugs, the insurance drug expense alone was over $400,000 per year). When we returned from Hawaii, I told the pain specialist what I had survived on in Hawaii near the end of our stay. I suggested we knock off some of the pain meds and just increase the Klonopin a little to help me relax. The pain specialist lady said I needed to titrate off of Subsys very slowly over 9-12 months, but she reduced the Morphine a little and went from 1 mg to 2 mg of Klonopin, 3 times per day. By the fall of 2016, everything seemed to quit working as my body built up a tolerance. I was so depressed (a side effect of Fentanyl overdosing, I later learned) that I was basically on the couch with a blanket over my head the majority of the day my family later told me. My family said my personality was changing too. The next thing the anesthesiologist pain specialist wanted to try was a Prialt pump. Prialt is an isolated epitope derived from the paralyzing toxin of a 3-inch sea snail found in the waters off of the Philippines. The Prialt is dripped on spinal nerves in the lower back leading to the toes and is refilled via a shot into the pump in the stomach area every month. I was dissuaded from this by his assistant as not the optimal way to go. I had also read and heard of poor results from it for my particular condition.
2017 In late April of 2017, I finally blew. I went completely loony, was rushed from jail to the University of Utah emergency room and endured an emergency rapid overnight detox off of everything. I spent 12 days rehabbing. I was so dysfunctional I went back to the loony bin for another 7 days. (When I later read how exponentially more powerful Subsys is than Morphine and even regular Fentanyl, I understood why everyone in the loony bin said I was a walking miracle to be alive.
In June of 2017, a nice primary care provider took over my care. He prescribed:
1) 8 mg of Subutex 4 times per day- taken under the tongue
2) 2 mg of Klonopin 3 times per day
3) A small dose of Ativan 2 times per day since no anti-depressants worked on me. This at least helped me to focus and "jump started" me, but it must have a very short half¬ life.
He also got rid of all of the psychotic drugs the loony bin psychiatrist prescribed for me to help me sleep.
2017 At the end of November 2017, we had to move quickly from where we lived. Ulcer on right toe became infected. Spend November 27th to 29th at Moab Hospital on way to Snowflake, Arizona. November 30th - met with Dr. Don Shumway to amputate½ of right big toe. He recommended a nerve decompression surgery for both feet. The results are amazing, and I have a new great friend for eternity. What he did is a true miracle!!